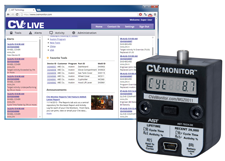 AST Technology, a PCIC Group Company specializing in comprehensive OEM support services, introduces the new CVe Live™, a system giving users the ability to view mould activity in real time.
Using a website interface, the CVe Monitor enables tool owners to view information such as cycle times, quantity of cycles, and maintenance for tools running around the globe. CVe Live provides users with the added ability to:
See alerts if maintenance is due or overdue

Generate real-time graphs and reports on the activity of a specific tool or group of tools

View a comparison of the graphs and reports from specific tooling programs using the Program Watch module.
These new features provide supply chain/logistics personnel with up-to-the-minute information on the inventory levels in the supply chain.
In addition, AST will soon make available an upgraded version of the CVe Monitor device that incorporates more new features including tamper evidence and maintenance countdowns, enabling more robust reporting within OnDemand, the system monitoring software.
For more information about AST Technology, its products and services, visit www.asttech.com and www.cvemonitor.com.